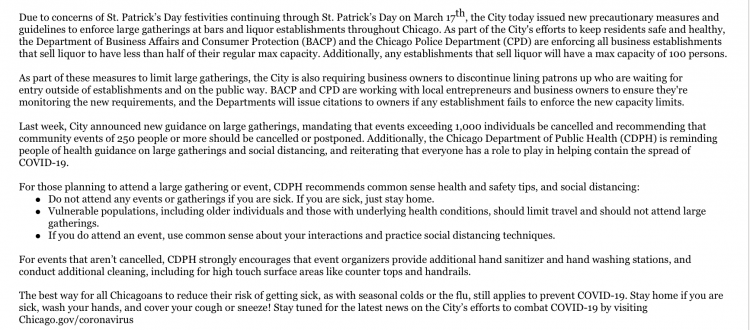 Chicago Mayor Lori Lightfoot discusses new measures to combat the spread of the coronavirus
On March 15, 2020 Mayor Lori Lightfoot issued an order of restricting number of people in restaurants and bars to half what they normally would accommodate:
Due to concerns around St. Patrick's Day festivities, the City is enforcing all businesses that sell liquor to have less than half of their regular max capacity. Additionally, any establishments that sell liquor will have a max capacity of 100 people.
Lightfoot said she and Gov. JB Pritzker were very concerned to see "people engaging in very foolish conduct" as people packed bars to celebrate Saturday.
"We saw people engaging in very risky behavior: sharing drinks, sharing flasks, lines queued up," Lightfoot said — all actions the Centers for Disease Control recommends against. "We have to stop that and shut that down."
Lightfoot said she is giving bar owners the chance to "show that they can get this right."